So what is 'Content Marketing' anyway?
We read and hear the phrase everywhere and I wonder if anyone really knows what it means. We like to ask ourselves these types of questions, particularly when the concept becomes thrown around so loosely and in a way, that presupposes that everyone knows what you are talking about.
Looking for a definition…
Well, let's get a definition as a baseline. the Content Marketing Institute (CMI) (they have the words in their name so they must know!) defines content marketing as the following:
"Content marketing is a marketing technique of creating and distributing valuable, relevant and consistent content to attract and acquire a clearly defined audience – with the objective of driving profitable customer action."
Excerpted from http://contentmarketinginstitute.com/what-is-content-marketing/
Sounds pretty good, right? Kind of begs the question though of what was marketing before "content marketing"? Clearly, this term has taken hold as a byproduct of the digital age and the ever-increasing ability to use digital environments to convey information. However, it has always been the goal of marketing to deliver a message to a defined audience.
Too common to be easily understood?
We belong to a variety of LinkedIn groups that spawn regular discussions about marketing subjects (a form of content marketing in itself) and in a recent unscientific review of topical discussions we found the concept of 'Content Marketing' to be an overwhelming topic of discussion. The following are just a few of the titles of these discussions:
How Do You Plan Your Content Marketing Campaign?
Why Content Marketing Fails
How Can You Combat Content Shock?
It is clear that the concept is a hot topic but also it is clear that everyone has their own definition, along with their own perspective of what should be done to accomplish it and a never-ending list of faux pas to avoid. Well, content marketing can be a very powerful tool in communicating your message and a sure method of interacting with an audience that needs your services. Information should be free, it is expertise/execution that should carry value. Here's the rub, in too many cases content is being delivered for the sake of content itself or said differently it has become a chase to fill space.
Strategy…
We certainly espouse utilizing a sound content marketing strategy. Original content as well as a delivery schedule of smartly gleaned content is very important in today's business environment. However, there is such a thing as balance. So, while we agree with the definition above, we would suggest an augmentation as follows:
Content Marketing should be aligned with the overall goal of every business to tell its story to the right audience.
People don't identify with content generally, rather they associate to the story specifically. Identification comes from listening and responding to what is important to the audience instead of forcing the audience to adopt what is important to you. Businesses, like people, should not be individual topic-focused in their communication. Your business has complexities and layers, and so does your audience. Your audience is looking to identify with your story because you first identified with theirs. So be certain that your content marketing remains current, relevant and complimentary to your story.
Parting thoughts…
One last note on the reach of content marketing. I agree with CMI in their article that content is the backbone of all great marketing. Consider the reach of your content and where it can be utilized beyond social media. And here's a rule to consider – if you don't have something meaningful for the recipient then as tempting as it is to fill space…don't.
Need help, we are happy to assist.
Copyright 2017, AllyMark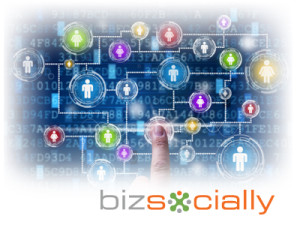 Author Bio – Jon Visser is a partner at AllyMark which offers its social media management tools through its BizSocially product offering. BizSocially is designed to make social media easy for the business owner through its various turnkey services. Engineered to remove the guesswork, create consistency at a cost that is manageable for any size business, BizSocially can get your business on the right track with social media today.